Mr. Silver Pencils!
As I said yesterday Bel, from uber awesome And Stanley makes three, tagged me last week. So now I get the exciting opportunity to tell you 5 fun facts about Mr. Silver Pencils... let's call him Mr. SP for short.
1) Mr. SP is seriously funny. He makes funny faces, sounds, and gestures all the time. And out of nowhere, he's also just started impersonating people. Now our nightly phone conversations are ended by him telling me he loves me... as Robert De Niro :)
2) Mr SP is a huge movie/ music buff. He always knows which movie is coming out, who's in it, and what the reviews are already- same with music. His itunes libary is endless. We both love discovering new music and introducing it to eachother. For example- I created a love for Ryan Adams within him and he did the same with The Editors for me.
3) Mr. SP is a fantastic surf artist. He's never taken any classes and only does it as a hobby- but he's incredibly gifted. The picture below was one of his first and done in under 30 minutes while talking to me in my room... I don't know how much of his attention I had :) But I was happy with the end result. I loved it so much I taped it onto an old vintage frame I had picked up at a garage sale... as you can see- I never took it off :)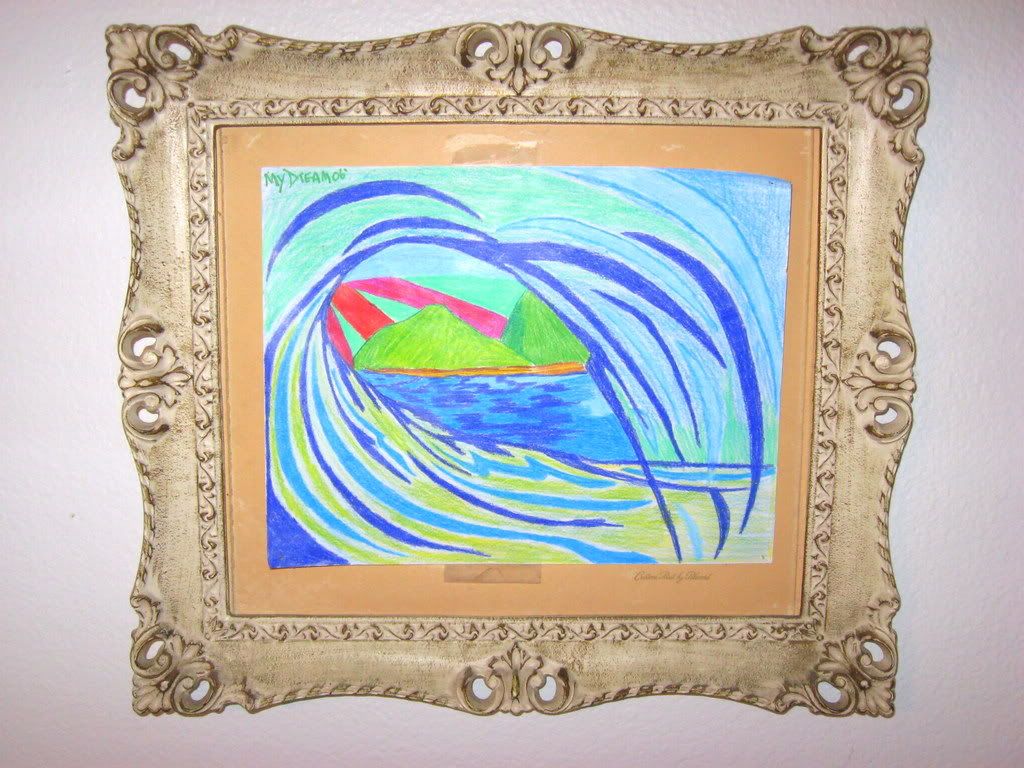 4) Mr SP can remember anything! That's right- he has the memory of an elephant. I can't remember what day it is- and he can remember what day it was the time we did something that I also can't remember! Besides dates, he's also great at remembering faces and names. Remember- he's the one who spotted the celebrities at the flea market- not I.
5) And finally, he loves to be outdoors. He like to surf, camp, golf, fish- you name it. We love taking Maverick to the beach or up to the mountains- Mav even has his own Eddie Bauer tent when we go :) Mr. SP also plays on a softball league every Sunday with my dad and brother... which is funny and awesome all rolled up into one. There's no one I'd rather be with, and I'm so blessed to be this sexy man's future wife.